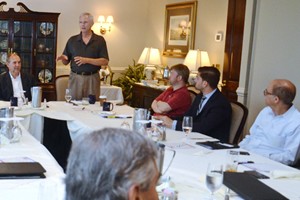 For nearly two decades, The Atlanta Business Alliance ("the ABA"), a Georgia non-profit corporation, has provided a forum for some of Atlanta's top business owners, professionals and community business leaders.
We exchange ideas, network, provide support and find answers to the issues confronting businesses on a regular basis.
The ABA formed when a few business people were looking for partners to collaborate with on certain projects. With a little networking, a core group was formed and began to grow. As the 1990's took off, businesses were growing rapidly. New members joined in the technology spaces, as well as business and professional services.
The new millennium brought many changes as to how professionals network and communicate. The ABA was quick to adapt and implement these changes.
Today, we blend traditional networking and relationship building with modern tools and technology. No matter what the future brings, the Atlanta Business Alliance will be there helping businesses succeed.