Categories

Business Category:

Telecommunications

Company

ets Solutions

Direct

678-504-4722

Mobile

770-367-7109

Email

claire@etssolutions.com

Website

http://etssolutions.com/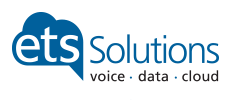 Claire Hatcher is the Sales Support Manager at ETS Solutions. She has been with the company for 2 ½ years now & fulfils the Sales Support role. In addition, she oversees new client management, product pricing, technology assessment preparation & client renewals. Claire is involved in the Atlanta Business Alliance, the Metro Atlanta Chamber and many other business associations. She volunteers for Habitat for Humanity & The Atlanta Humane Society. Outside of the office Claire enjoys cooking, traveling, her many animals & is an avid Braves fan. Claire graduated from Kennesaw State University with a B.B.A. in Marketing.
ETS Solutions
Based in Kennesaw, Georgia, ETS Solutions is technology consulting firm in the areas of voice, data, and cloud. Founded in 2002, ETS has been helping businesses save money on their telecom expenses as well as develop IT strategies for over 13 years. We believe in taking a holistic approach to understanding a company's technology infrastructure in order to develop and offer an integrated solution that creates business value for our clients. At absolutely no cost, we conduct a technology assessment where we review current phone and internet bills to identify needs and/or pain points. After the assessment, we provide consultation to the business owner on technology as it relates to phone systems, VoIP platforms, data circuits, and backup circuits, and cloud solutions like disaster recovery or Office 365.
ETS then delivers a solution based upon offerings from our carriers and IT partnerships. We represent dozens of service providers. We provide objective options that will arm clients with knowledge so they can make an informed business decision. Once a decision is made, ETS assists with the implementation of the solution by managing the install process and staying on for the length of service to provide 24/7 customer support. ETS Solutions takes on the details of clients' telecom and cloud solutions so they can focus on growing their business. It's Technology Made Easy ®.
Interview Questions
1.      What is VoIP and how does it change day-to-day functions in the office?
2.      Now that the FCC is suggesting that businesses move to VoIP by 2018, what will a business have to do to start the process of moving?
3.      What is the best type of internet connection for my business?