Categories

Business Category:

Mortgage Services

Company

American United Mortgage Corp.

Address

1010 Huntcliff, Suite 1350

Phone

770-518-2438 x1194

Mobile

404-797-3500

Fax

770-518-2439

LinkedIn

http://www.linkedin.com/pub/michael-frank/0/3b/22a/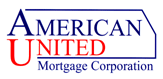 We are America's Leader In Low-Cost Residential Mortgage Lending! Our customers receive competitive rates and fees, creative solutions, fast closings and most important, excellent service.
Call today! Ask about other states!
Originator NMLS #157300, Georgia MLO license #25130. American United Mortgage Corp. NMLS #157118, Georgia Res. Mtg. Lic. #17975.
Contact Michael Frank at: mfrank@americanunitedmtg.com