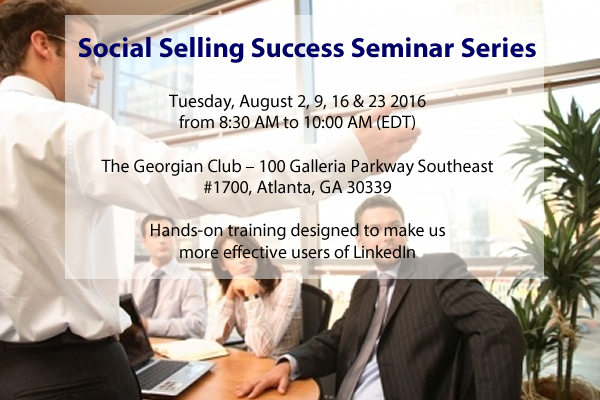 Many top sales producers now state that LinkedIn is their main tool for selling success. However, using this powerful business social media channel improperly can also backfire and make your sales job tougher. In this 4 week seminar series, Barbara Giamanco will provide hands-on training designed to make us more effective users of this powerful tool.
Make plans to attend the Social Selling Success Seminar Series, Presented by The Atlanta Business Alliance.
When   Where   The Georgian Club – 100 Galleria Parkway Southeast #1700, Atlanta, GA 30339 – View Map
Session 1: Build Your Professional Brand  (Link)
• Elements of Effective LinkedIn Profiles
• Privacy and Account Settings
• Working with Connections
• What to Do Daily
Session 2: Focus on the Right Prospects (Link)
• Lead Generation Strategy & Tactics
• Building Search Lists
• Referrals
• Groups
• Companies
• Follow posts
Session 3: Engage with Insights (Link)
• Groups
• Content Sharing Strategies
• Who's Viewed Your Profile
• Media
• Status Updates
• Publishing Posts – Building a Following
Session 4: Build Trusted Relationships (Link)
• Research Before Engaging
• Engagement Strategies – The Right Way to Message
• Demonstrating Expert Credibility and Capability
• Tagging and Follow-Up
Please bring your laptop or tablet to each training session along with your access information. 
There is a separate page for each session.
Please register for which ever sessions you plan to attend. Thank you! 
Information about our instructor:
Barbara Giamanco is a speaker, consultant, adviser and trainer, who works with sales and marketing teams to implement social selling and social business strategies that accelerate sales opportunities and increase pipeline and revenue.
In her role, she works with customers to create a sound business strategy that aligns their Social Media Marketing and Sales strategies to organizational objectives.